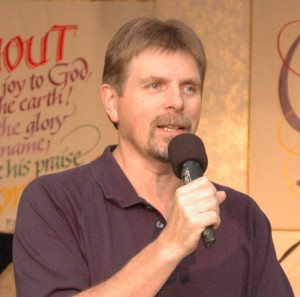 Randal is the founding pastor of New Dawn Community Church in Coral Springs, Florida (9335 W. Sample Road, Coral Springs, FL 33065).
He graduated from Bethany Lutheran College in Mankato, Minnesota in 1983 with Highest Honors. He is a Magna Cum Laude graduate of Wisconsin Lutheran Seminary in Mequon, Wisconsin where he received his Master of Divinity degree in 1987. He has done further post-graduate work at Reformed Theological Seminary (Jackson, Mississippi and Orlando, Florida).
Randal is a dynamic teacher of God's truth. He has studied Greek and Hebrew extensively, and informs his teaching with appropriate references without getting overly technical. He has a theologian's perspective on biblical truth, and a pastor's heart for applying living truth to God's people today.
Randal planted his first church in Coral Springs in 1987 for a conservative Lutheran denomination. By the Lord's direction, that church plant left the Lutheran denomination in 1994, and, in 1995, merged with another congregation to form New Dawn, a non-denominational charismatic congregation.
In addition to his pastoral duties at New Dawn, Randal is also an Elder for the MorningStar Fellowship of Ministries, an organization that provides relational covering for ministries around the world. The MorningStar Fellowship of Ministries was founded by Rick Joyner in 1995. Randy has been an ordained member of the Fellowship of Ministries since its inception in 1995. He is also a professor of the Greek language for MorningStar University's College of Theology.
Randal is also the author of Whatever You Bind On Earth: Authority Over Hurricanes, which is the story of how God called New Dawn Community Church to stand in the gap for South Florida using the Keys of Kingdom authority to protect it from hurricanes. The book recounts the story of 1999's Hurricane Irene, and how the Lord warned New Dawn over a year in advance that Hurricane Irene would hit South Florida by surprise and devastate it unless the Church in South Florida joined to pray against it. It chronicles how New Dawn publicized this warning, and how the congregation successfully called the churches of the county to pray against Irene by name for the six months before the storm hit.
Randal has been married to Dawn since 1980. They have three children, Alyssa, Linea, and Joshua. Lillian Cutter, Randal's mother, also lives with them.
Check out the church's website at www.newdawn.org.
——————————————————–
Subscription Notice: I have found that the most dependable way of notifying subscribers of a new post is through email. So I have added an email subscribe option below. Just add your email address and click subscribe (you will receive an email asking you to confirm your subscription—so check your spam folders if you don't). You will receive an email alert whenever I publish an article. Your emails will be used for no other purpose.

Share on Facebook