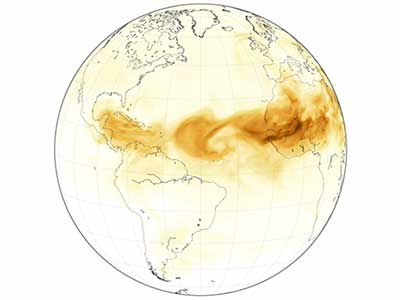 The hurricane season has barely begun, and certainly has not reached the most intense part of the season, and yet the hurricane prognosticators at Colorado State University have already made major changes to their hurricane season forecasts. As early as April we were being warned that the season would produce "above average activity." That forecast held through their May/June statement, but on July 2 they released an update that read, "We have decreased our forecast and now believe that 2018 will have below-average activity." Note that they have not simply downshifted to "average activity." They, in essence, have skipped a gear as they analyze what is happening in the tropics. The specific reason they gave for this significant change in their forecast is that the "tropical and subtropical Atlantic is currently much colder than normal."
This is excellent news for those of us who live in areas that hurricanes have visited in the past. The fewer storms, the better. Of course, these forecasters have been comically wrong in the past, so we do not bank on their opinions. We do note them, though, and often shape our hurricane season prayers based on what they are perceiving in the atmosphere and on the earth. Their forecasts help us pray with more specificity.
On a related note, many of you have probably seen the reports of the above average flow of dust from the Sahara over the Atlantic Ocean this summer. This flow of dust is one of the reasons the Atlantic is cooler this year. In an article on this topic entitled Saharan Dust Has Chilling Effect on North Atlantic, scientists at NASA's Goddard Space Flight Center explain that the Saharan dust has a major role in reducing the Atlantic's temperature (article HERE). So, while the dust may bother the folks in Houston, as
demonstrated by the picture to the right, it certainly helps with hurricane activity.
And that brings me to this year's hurricane season prayer meetings at my congregation. Each year we have two separate prayer meetings on evenings in June to pray against negative developments during the year's hurricane season, and to pray for positive developments that hinder storms. This year we specifically prayed for cooler Atlantic temperatures, and even, specifically, for the Saharan dust to have a major impact on diminishing the threat from the hurricane season. I didn't personally pray about the dust, but I remember when the person who did stepped up to the microphone. That person prayed that a lot of dust from the Sahara would be swept up into the atmosphere over the Atlantic, and help cool the Atlantic and diminish the storm threat. I remember it because it isn't something that we think of praying very often. Since it was out of the ordinary, I easily remembered it when I started seeing articles about the Saharan dust in Houston. As I then investigated, I found out more about its role of cooling the waters. Those cooler waters are one of the reasons that the hurricane forecasts have diminished.
When we pray, things change. That is why we have prayer meetings even before storms come. Better to hinder their formation than to have to stare down some monster storm that is aimed right at us. I much prefer not having to call prayer meetings because a storm is threatening. However, if one does threaten, we will be on the wall praying against it.
As for Houston, they need to get rid of the dust by praying that it goes where it will do some good. It provides major benefit to the rainforests of the Amazon. So if I lived in Houston, I would not only be praying for the Saharan dust to continue, I would be praying that it heads to the Amazon because it actually helps things there. I can't imagine that it is fun living in a dust cloud like the one shown in the picture above; so, I would pray accordingly.
——————————————————–
Subscription Notice: I have found that the most dependable way of notifying subscribers of a new post is through email. So I have added an email subscribe option below. Just add your email address and click subscribe (you will receive an email asking you to confirm your subscription—so check your spam folders if you don't). You will receive an email alert whenever I publish an article. Your emails will be used for no other purpose.
Images credits
Top Left Picture: NASA Earth Observatory
Bottom Right Picture: KHOU11

Share on Facebook