Romans Chapter Eight
November 23, 2015, 6:00 am
Randal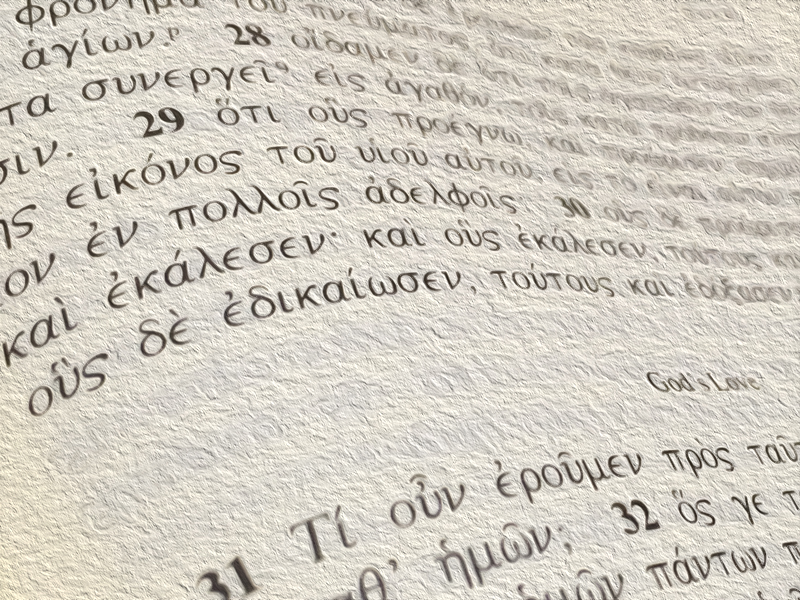 Many of you know that, among the other things that I do, I also teach biblical Greek when needed at MorningStar University College of Theology. Since my normal focus for this blog doesn't require a lot of Greek, I rarely reference it. But recently I was reminded of something that I often take for granted. I was at a pastors' meeting, and was using a Bible program on my iPhone to check Greek and Hebrew references. Whenever the person who was speaking referenced a nuance of the original languages, I would check it. I usually check references to the original language because, on occasion, I will find that the person who is speaking has overstated the case for the meaning of a particular Greek or Hebrew word. Like a good Berean, I always have my iPhone at the ready.
What I didn't realize while I was at the pastors' meeting, is that the person to my right could clearly see me reading Greek and Hebrew scriptures from my iPhone as the speaker referenced them. At the conclusion of the message, that person told me what an amazing thing it was that I could work with the original languages. It was clear that the person saw it as a great blessing. I agree with that assessment, but rather than feeling a sense of pride, I am simply grateful that the Lord took me through an education system that had required me to learn the biblical languages. I do not suffer from any illusion that I would have sought those skills on my own.
As a result of the interaction at the pastors' meeting, the Lord was able to remind me about Romans 8. He reminded me that he wanted me to use the skill set that he has given me to work on a translation of Romans 8 that is more accurate and meaningful than those that are available. That, actually, is not as difficult as it sounds. Most translations are done by a committee. Each committee member has theological prejudices and understandings that may actually close some areas of the Scripture to his or her understanding. Since it is a committee, there is no guarantee that the most appropriate or meaningful translation will be the one chosen.
The other problem translators have is the one of tradition. The King James Version has left its mark. Unless a new Bible is clearly labeled a paraphrase, it will not do well if it strays too far from the King James Version. Since so many of the newer translations have stayed fairly close to the King James Version's choices in many areas, it has made it very difficult to break from the crowd with any sense of legitimacy.
Do not get me wrong, most modern translations are amazing tools for our growth in Christ, and the scholarship has advanced in profound ways from the days of Wycliffe, Tyndale, Luther, and those scholars who labored over the KJV. Our translations are special gifts from God, and the fact that we have so many good translations at our disposal is an incredible blessing. However, for the reasons mentioned above, every translation has strengths and weaknesses.
IMPORTANT NOTICE: At this point, some of you may simply want to scroll down to the translation of Romans 8 below. I'm about to get into a bit of grammar. Some of you will find it very interesting. It may put some of you to sleep. You know who you are. Scroll down now if you need to do so.
For those who are still with me in this paragraph, I will give an example of how the King James Version often sets the direction a translation can or will take. In Romans 8:28, the KJV translates the Greek in this fashion: "And we know that all things work together for good to them that love God, to them who are the called according to his purpose." This is a well known translation of the Greek, but it has theological difficulties in the English translation, and grammatical difficulties from the Greek. However, it is such a well known passage of Scripture, that newer versions are almost forced to stay somewhat close to it. I'll give several examples from newer translations:
And we know that for those who love God all things work together for good, for those who are called according to his purpose. (ESV)

And we know that in all things God works for the good of those who love him, who have been called according to his purpose. (NIV)
The NIV breaks the furthest from the KJV by making God the subject of the sentence. Instead of the rather nebulous concept of "all things" somehow working themselves out for good, the NIV clearly shows that God is the one who works all thing for good. That is significantly different than the other translations, and I certainly agree with that choice of the NIV translators to make God the subject.
There is still a puzzling problem with the verb. The verb most naturally means to "work with someone," not to "make things work together." None of the translations above incorporate this rather awkward fact into their framework. However, the verb clearly indicates that God is working with someone. So if God works with someone, it would be nice to know who that someone is. Actually, there is only one option: those who love him. The Greek phrase translated "those who love God" is in the dative case. The verb "works with" almost requires that it be followed by the dative case. These two phrases are like magnets being drawn together. "God works with" must irresistibly attract "those who love him." Thus, this becomes the most grammatically and theologically appropriate translation of the verse:
And we know that God works all things for good with those who love Him; with those who are called according to his purpose.
This is a very natural reading of the Greek language of Romans 8:28. I polish it a bit in my translation below, but in my view, it is the only reading that makes the most sense grammatically and theologically. I am certainly not the only Greek scholar who translates it this way, however, the versions have stayed away from it (although the NIV did place this option in a footnote). My suspicion is that they stay away because it is too radical of a departure from the tradition.
Please note that the theological implications of this sentence are staggering, and far different than the traditional understanding. In our normal understanding of this verse, God is working behind the scenes so that all of the things that happen to us, whether good or bad, work out for our good. What it actually states is that God is working with us, and we are actively engaged in working with God so that all things result in good. In the traditional translations, we are recipients of the actions of God. As corrected, we are participants in making all things result in good. In the corrected translation we become agents of God working to bring positive change in a world where negative things happen. All things are most certainly not good, but we actively partner with God to release as much good as we can into even the most awful situations.
I trust that the translation of Romans 8:28 whets your appetite so that you are eager to read the entire chapter of Romans. Translations by one translator certainly can also have their issues. However, one translator works without a committee, and thus can make choices that more clearly indicate what he believes is Paul's intent. You will be able to see if I have achieved that objective.
I present my translation of Romans 8 here to fulfill an assignment that the Lord gave me, and to provide a clear and workable translation of the chapter:
Romans 8:1-39
Now then, there is no sentence of death for anyone who is in Christ Jesus.
For the power of the spirit of life in Christ Jesus set you free from the power of sin and death.
For what the power of law was unable to do, in that it was weak on account of the flesh, God did by sending his own Son in the likeness of sinful flesh, and He punished sin in the flesh of his Son for the sake of those who sinned.
He did this in order that the legal requirement of the law might be fulfilled in us who are not walking according to flesh, but according to spirit.
For those who live only in flesh think of fleshly things, but those who live according to spirit think of spiritual things.
For the thoughts of the flesh release death in all of its manifestations, but the thoughts of the spirit release unmistakable life and peace.
For the thoughts of the flesh are hostile to God because the flesh is not submitted to the principles of God; it is unable to do so.
And those who are living according to their flesh are not able to please God.
But you Romans are not living according to flesh, on the contrary, you are living according to spirit, since the Spirit of God dwells in your midst. But if anyone does not have the Spirit of Christ, he does not belong to Christ.
But if Christ is in your midst, the body has death working in it on account of sin, but the spirit has life working in it on account of righteousness.
And if the Spirit of the One who raised Jesus from the dead lives in your midst, the One who raised Christ from the dead will also release life to your physical bodies through His Spirit dwelling in your midst.
Now therefore, brothers, we are in debt, not to the flesh to live according to fleshly principles,
for if you live according to fleshly principles, you will most certainly die a premature death. But if instead you put to death the fleshly deeds of the body with the Spirit, you not only will not die prematurely, you will have life in you,
because as many as are led by the Spirit of God are sons of God.
For you did not receive a spirit that is in bondage to the fear of death, but you received a spirit of divine adoption by which we cry, "Abba Father!"
The Spirit himself bears witness with our spirit that we are children of God.
Now if we are children of God, then we are also heirs; heirs of God and joint heirs with Christ, if indeed we suffer together with Him in order that also we might share in glory together with Him.
For I consider that the sufferings of this present time are not worth comparing to the glory that will be revealed in us.
For the creation is filled with confident expectation as it eagerly awaits the revealing of the sons of God.
For the creation has been subjected to futility, not willingly, but because the One who subjected it to futility has absolute confidence
that the creation will be released from slavery to decay, and will be brought into the freedom and the splendor of the children of God.
For we know that the whole creation together groans and suffers even until the present time.
But creation isn't the only one, we who have the firstfruits of the Spirit, we also groan in ourselves awaiting divine adoption, the freeing of the entire body of believers.
For this hope we have been rescued, but it is no longer hope when you can see it. For who hopes for what he sees?
But if we hope for what we do not see, we are patiently waiting.
And likewise also the Spirit helps with our weakness. For we do not fully understand the absolute necessity of prayer, but the Spirit himself appeals on our behalf with inexpressible groans.
And the One who examines hearts knows what the thoughts of the Spirit mean, because it is by the will of God that the Spirit approaches the throne on behalf of the saints.
And we know that God works with those who love Him so that all things result in good; He works with those who are called according to His purpose.
Because those He foreknew, He also set on a path to conform to the image of His Son, so that He would be the firstborn among many brothers.
And those He set on that path, He also called. And those He called, He also pronounced righteous. And those He pronounced righteous, He has also given honor.
Therefore, what shall we say to these things? If God is our champion, who can oppose us?
Indeed, He did not spare his own Son, but delivered Him up on behalf of us all. Since that is true, how will He not also, working with His Son, freely give all things to us?
Who would dare bring an accusation against God's chosen ones? God is the one who has declared them righteous!
Who would dare bring a guilty verdict? Christ Jesus, the One who died, and more than that, was raised to life, He is also on the right hand of God and He is always pleading before the throne on our behalf.
Who can divorce us from the love of Christ? Will tribulation, dire straits, harassment, famine, nakedness, peril or threat of sword be able to do it?
Just as it is written: "For your sake we are put to death the entire day; we are counted as sheep for slaughter."
But in all these things we are completely and overwhelmingly victorious through the One who loved us.
For I am fully persuaded that neither death nor life, neither angels nor principalities, neither current events nor future events, neither earthly powers,
nor powers in the heavens above or in the depths below, and nothing else in all of creation is able to divorce us from the love of God which is in Christ Jesus our Lord.
I trust that you are edified and encouraged. If you have any questions about the translation, I am more than willing to discuss the nuances of the translation with anyone who desires. I know that one question many readers might have is, "Why, in verse 9, do you translate Paul's words as 'You Romans,' when the Greek word for Romans is nowhere to be found?" Ahh, that is a great question. I am glad you asked. The answer is that Paul used the plural form of "you" in several places in that section. It is obvious at those points that he was not addressing a hypothetical person (using "you" in the singular), he was addressing a group of people to whom he was writing. That group of people was the Romans. Whenever the "you" is plural, I have attempted to show that he was addressing the Roman congregation as a whole, rather than only the individual.
I trust you will be blessed by this translation. If you share it with others, you might want to link back to this blog so that they can see the reason for some of my choices, and ask questions if they are so inclined.
——————————————————–
Subscription Notice: I have found that the most dependable way of notifying subscribers of a new post is through email. So I have added an email subscribe option below. Just add your email address and click subscribe (you will receive an email asking you to confirm your subscription—so check your spam folders if you don't). You will receive an email alert whenever I publish an article. Your emails will be used for no other purpose.
Image credit: Randal Cutter/iPhone 6s (Berean Version)/Photoshop Oil Paint Filter
Share on Facebook