Tropical Storm Erika
August 27, 2015, 10:07 pm
Randal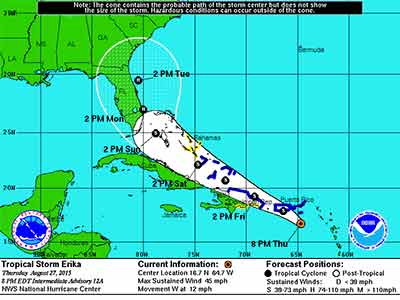 Tropical Storm Erika has the attention of most of Florida. A tropical storm, especially one projected to become a hurricane, will grab your attention when its potential path covers most of our state. However, as forecasters point out, there are still major uncertainties about Erika's future. One of the biggest variables that forecasters have is us. Will we stand in our authority, or won't we?
We have had a problem the last several years. We haven't had enough storms to pray against. I didn't say it was a painful problem, just that it was a problem. When you don't exercise your authority in a particular area in a specific way, you can begin to wonder if you have some rust around the edges of your prayer.
So earlier this week, even though Hurricane Danny was never projected to be a real threat to our area, we practiced a bit on Danny. On Sunday morning, the 11:00 AM report predicted that Danny would hit Cuba before becoming extra-tropical on Thursday (see graphic at right). However, I invited the congregation to step into intercessory authority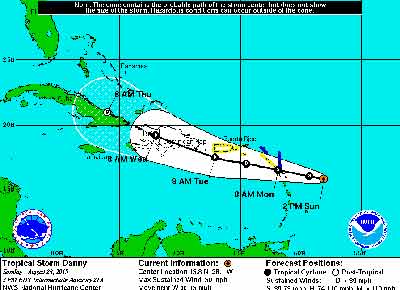 with me and "mess with" Danny (and the National Hurricane Center) by commanding Danny to disintegrate. We then picked up the keys, and commanded Danny to disintegrate. We didn't pray long, but we prayed with faith. From that point on the Hurricane Center's forecast reflected a disintegrating Danny until it ceased to exist on Monday morning, days earlier than the forecast had stated when we prayed on Sunday morning.
You can imagine that I felt pretty good about our effectiveness when I saw the impact of our prayer. However, the Lord soon spoke to us about our real work. He let us know it would be Erika. He told us Erika was going to try to take a bite out of us. That let me know that while Danny was a normal storm, Erika has been sent with an evil agenda.
As a result, we have been praying and watching Erika since then. We held our first congregational prayer meeting on Thursday evening. A group of us gathered together to take up the keys of authority that Jesus promised his church would wield (see Matthew 18:18-19). We stood in the promises of Jesus, and commanded Erika to leave us alone. We did not pray out of desperation, we prayed from victory. Jesus won the victory, and has given authority to his Church. When we pick up the keys, we are praying from his victory. We are releasing the results of his victory into the world (on earth as it is in heaven).
I'm writing this shortly after Thursday's prayer meeting. I am looking forward to see the result. In the meantime, especially if you live in Florida, I invite you to pick up the keys with us. Jesus paid an awful price to give us authority. Let us honor him by using it.
——————————————————–
Subscription Notice: I have found that the most dependable way of notifying subscribers of a new post is through email. So I have added an email subscribe option below. Just add your email address and click subscribe (you will receive an email asking you to confirm your subscription—so check your spam folders if you don't). You will receive an email alert whenever I publish an article. Your emails will be used for no other purpose.
Images credit: National Hurricane Center
Share on Facebook