Use the Keys, Stop Bad Things
July 28, 2015, 2:21 pm
Randal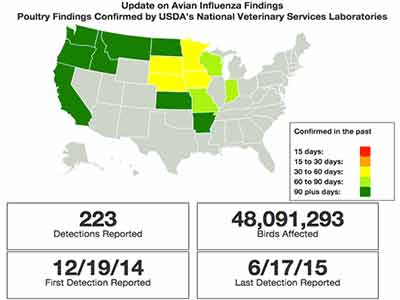 The avian influenza that ravaged the Midwest has been stopped in its tracks. No new cases have been detected since June 17. When I first warned of what the Lord has shown us about this epidemic back in April (see "A Turkey Shortage for Thanksgiving?"), just over one million birds had already died or been culled. I stated that if we did not pray, we would see far more birds die. According to United States Department of Agriculture (USDA)  information, the epidemic ended up claiming 48.1 million birds through mid-June. While the U.S. Agriculture Secretary, Tom Vilsack, is not ready to declare that the outbreak is over, I believe that God's people have turned the key in the lock.
In an update released on July 19, the USDA admitted that it still has not nailed down how the virus spread. The reason they are puzzled is that large bird farms have fairly good biosecurity procedures. But in spite of that security, this epidemic rampaged throughout the Midwest. Since the Lord told us back in February that this plague had spiritual roots, I'm not surprised that they are having difficulties nailing down the transmission vectors. Medical authorities are at a disadvantage when things have spiritual roots. That is why we need to use the keys of authority that the Lord has provided us (see Matthew 16 and Matthew 18).
I personally believe the turning point came on June 2. Up until June 2, the spread of the virus was continuing unchecked. If you check the USDA website, you can see that detections of newly infected flocks were continuing unabated at that time (see full chart).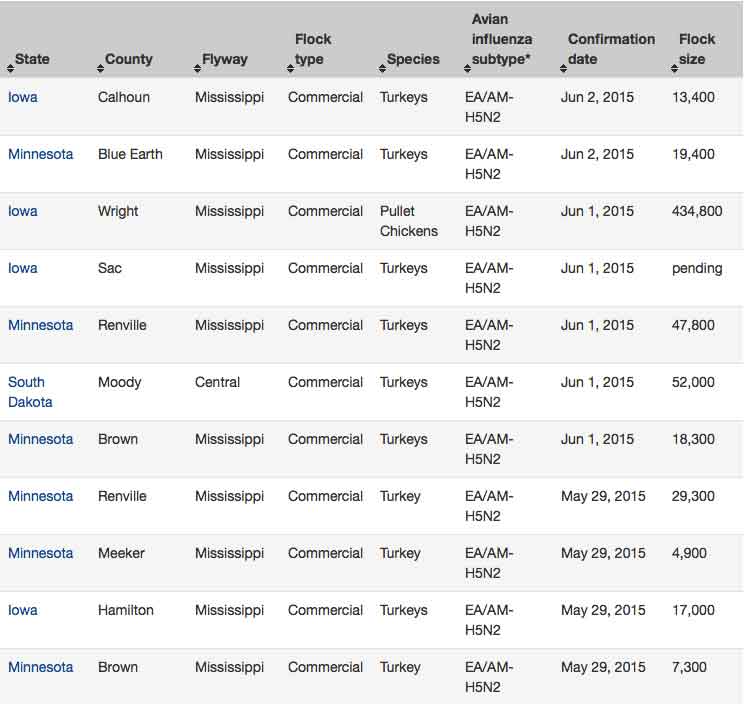 However, during the first week of June, hundreds of Kingdom warriors from around the United States came together at Heritage International Ministries in Fort Mill SC. We gathered for the MorningStar Fellowship of Ministries retreat. These are spiritual veterans who have ministries across the United States devoted to building the Kingdom of God. They have faith, and most have a growing understanding of the keys we have been given. Since they represented regions from around the United States and the world, the geographic authority represented in those meetings was massive.
On Tuesday afternoon, June 2, we held a prophetic panel. Dawn and I had been invited to be a part of the panel, and to share what God had been showing to us. By June 2, almost 45 million birds had died or been culled. I knew part of my job description on that panel was to explain what the Lord had revealed to us, and then to stand in intercessory authority with all those marvelous spiritual warriors so that we might crush this outbreak of avian influenza. We did just that.
I believe the tide turned that day. When you have flocks of a million birds, the detection procedure takes time. Flocks would have been infected days before the flu is detected, and perhaps even before that, especially when you are referencing a commercial flock of a million birds. When you factor that into the charts on the USDA website, you can see that my belief that June 2 was the turning point has merit.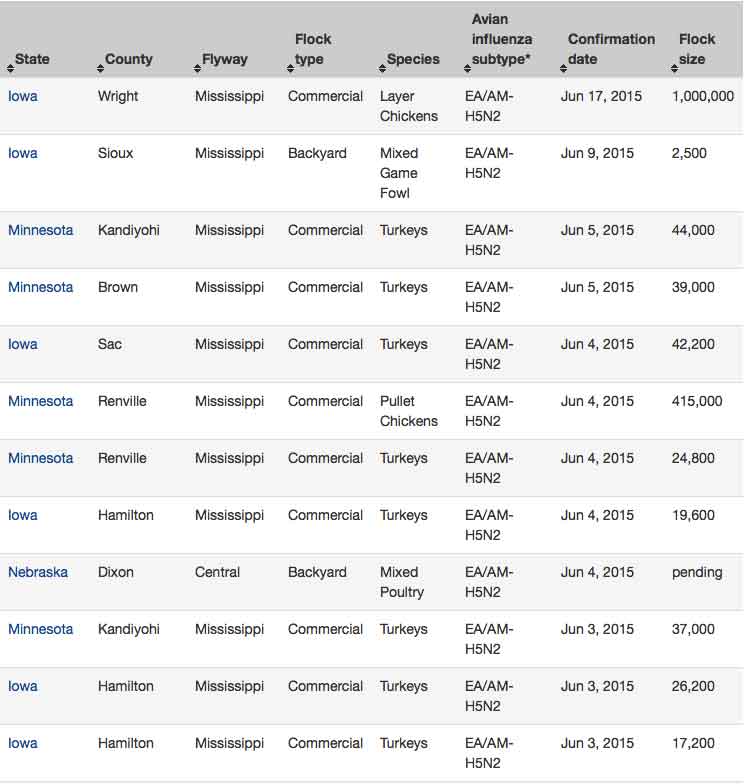 My belief has even more merit when you realize that all those Kingdom warriors returned to their homes and ministries across the United States and used the keys in their local settings for the next several weeks.
By June 5th, the back of this epidemic was broken. One backyard flock was diagnosed on June 9, but obviously a backyard flock could have been infected for quite some time before detection. Since the June 17 detection involved a flock of a million birds, we have no way of knowing when it was infected, only that it was the last flock in which avian influenza was detected.
The USDA is officially stating that they believe the summer heat has stopped the flu outbreak. However, they are certainly not a credible source on this topic, simply because they do not even know how it has spread. Human hubris is amazing sometimes. We don't know how it spread, but we think we can tell you why it stopped. Remember that they are ill-equipped to deal with issues that have spiritual roots.
I believe that God's Kingdom people have won a great victory. But we may not be done yet. Scientists at the USDA are nervously looking ahead to the fall migratory season with more than a little trepidation. They are concerned that droppings from infected migratory birds could once again spark an epidemic. I too am concerned, simply because the Lord showed us the spiritual roots of this epidemic before it even started. It is a result of lack of thankfulness in our nation. Until we deal with that spiritual issue, those with Kingdom authority must be prepared to use their keys as soon as they hear of reports that indicate another outbreak is underway. In fact, it would not hurt if we locked the door preemptively to any such scourge.
There is another reason that it may not come back in its current form; the Lord has already shown us what the enemy is seeking to attack next. The enemy of our souls (and of our food supplies) will always look for openings. When we have used our spiritual authority to shut one door, he goes looking somewhere else. The Lord showed us that he is exploring how to impact the cattle industry. So as you are praying for chickens, you might also use your keys to bring protection to the beef and dairy industry.
I believe we have experienced an incredible victory for the Kingdom of God, and for the people of this United States for whom we stand in the gap. As with all spiritual warfare, this doesn't mean we can let down our guard. In fact, we can use our new found faith and authority, something we receive with every victory, to extend the Kingdom even further. The Kingdoms of this world are becoming the Kingdoms of our Lord, and of his Christ—and he has given us the privilege of accomplishing it in his name.
——————————————————–
Subscription Notice: I have found that the most dependable way of notifying subscribers of a new post is through email. So I have added an email subscribe option below. Just add your email address and click subscribe (you will receive an email asking you to confirm your subscription—so check your spam folders if you don't). You will receive an email alert whenever I publish an article. Your emails will be used for no other purpose.
Image credit: USDA
Share on Facebook