A Turkey Shortage for Thanksgiving?
April 12, 2015, 10:40 pm
Randal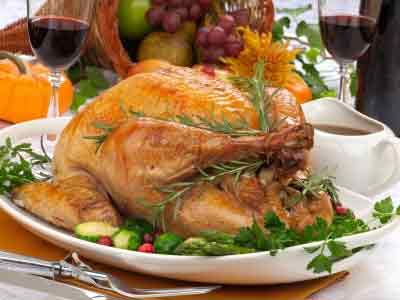 On February 10th, the Lord told us something a bit puzzling. He told us that there would be a turkey shortage for Thanksgiving. Sometimes I just scratch my head over the stuff that the Lord shows us. The Middle East seems headed toward nuclear armageddon. Virulent strains of Islam are killing Christians in horrific atrocities. Gay rights activists and progressive media outlets are launching public attacks intended to shame into silence all those who support the idea that marriage is for one man and one woman. The Supreme Court will soon issue a ruling which will either continue to allow states to decide the issue of gay marriage, or they will follow the path of Roe V. Wade and make something up out of whole cloth. These are days of incredible consequence on so many fronts, and yet the Lord is speaking to us about turkeys for Thanksgiving.
It actually is not as odd as it sounds, when you get right down to it. Even as the Lord told us about the turkeys, he said it is a result of a war that is going on for the hearts of people. He told us that people do not have thankful hearts. Isn't it funny that we celebrate Thanksgiving, yet each year it becomes more evident that people really are not all that thankful? Even among those who are grateful for what they have, many no longer know whom to thank. This lack of thankfulness comes at a cost. Thanksgiving has become a holiday for hypocrites who gather to give thanks, and yet do not. This hypocrisy has left an opening for Satan's minions to launch an attack.
If you have been following the news in recent weeks, you have seen the beginning of the attack. You know that the bird flu has made sudden inroads in the midwest, in of all places, turkey farms. I just read an Associated Press article that states,
A bird flu outbreak that has puzzled scientists spread to three more Midwest turkey farms, bringing the number of farms infected to 23 and raising the death toll to more than 1.2 million birds killed by the disease or by authorities scrambling to contain it. (See full article HERE).
What seemed very odd on February 10th now comes into clear focus. A bird flu outbreak on turkey farms, an outbreak that is puzzling scientists, is decimating flocks in the midwest and has already cost the lives of over a million birds. While at this point I would suspect that this isn't enough dead turkeys to threaten our Thanksgiving turkey supply, it is a significant start to something that could become epidemic among turkey farms. If that happens, there will no doubt be a turkey shortage for Thanksgiving.
I'm certainly not writing this so that readers in the United States begin to horde turkeys, or rush out to the store to get their Butterball brand birds before the November holiday draws near. I am writing this as an intercessory alert. When the Lord shows us a problem, he usually shows us a solution. That solution is his intercessory people.
The enemies of light intend to spread their darkness by taking advantage of a gap that now exists between our land and the grace and protection we need over our food supply. Those enemies, the spiritual forces of wickedness in heavenly places, have released a disease intended to ravage turkey flocks across the United States, and to spread economic ruin and fear among those who make their living providing turkeys to the United States populace. The shift in spiritual climate in the United States, in this case the lack of truly thankful hearts even on a holiday dedicated to thankfulness, has created an opening—a gap through which the wicked ones can inject their evil designs. That is the reason this outbreak is puzzling scientists. It has spiritual roots. They will not be able to handle it unless they get our assistance.
The wicked ones will succeed with their evil intent unless there are intercessors who are willing to step into the gap, who are willing to grab the censers of intercessory authority and petition, and then stand between the plague and the rest of the turkey farms to prevent the spread of disease and destruction. That is the reason the Lord spoke to us on February 10th. He was preparing this intercessory call in order to foil Satan's evil intent.
But we can't just pray for turkeys. They are only a symptom of the problem. Our true problem is spiritual. Our nation is being infected by a deadly disease: the lack of thankfulness. As we lift up prayers on behalf of the birds, let's also ask the Lord for the spiritual reformation we so desperately need as a nation. Perhaps if we do, we will not only have enough turkeys for thanksgiving, but those who are eating those turkeys might do so with truly thankful hearts.
——————————————————–
Subscription Notice: I have found that the most dependable way of notifying subscribers of a new post is through email. So I have added an email subscribe option below. Just add your email address and click subscribe (you will receive an email asking you to confirm your subscription—so check your spam folders if you don't). You will receive an email alert whenever I publish an article. Your emails will be used for no other purpose.
Image credit: / 123RF Stock Photo
Share on Facebook