Whatever You Bind on Earth
October 21, 2014, 4:02 pm
Randal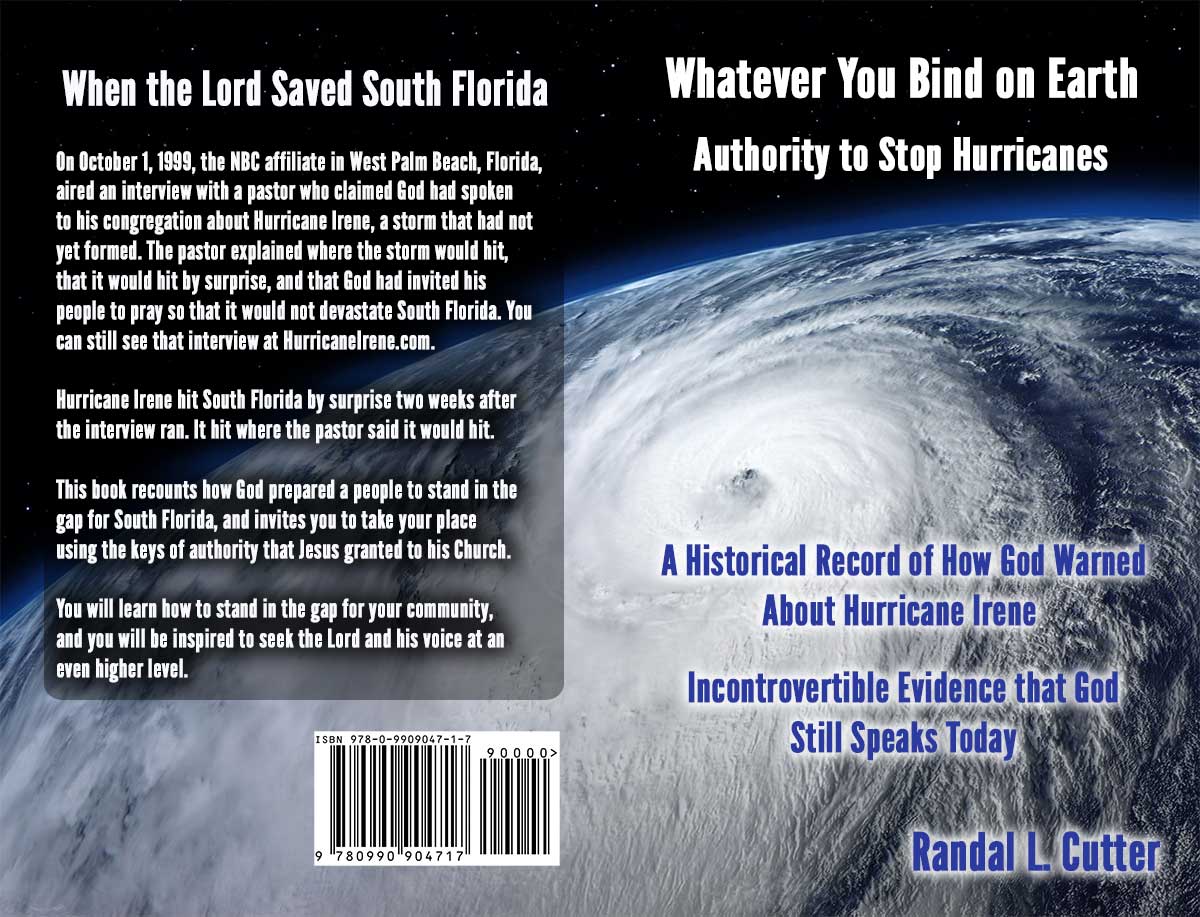 Last week Wednesday was the fifteenth anniversary of the day Hurricane Irene devastated South Florida with a surprise strike as a category four hurricane—oh wait, that is what was supposed to happen. Instead, because the Lord spoke to a group of his people, we knew about it a year in advance, so it wasn't a surprise to us. In addition, we also knew the storm's name, where it was going to hit, that the National Hurricane Center would drop the ball and not issue hurricane warnings for our area, and we knew it would be a category four storm unless God's people in our county picked up the invitation to oppose it in united prayer. Because God spoke to his people, and because we responded, we were able to set an ambush for Satan. Hurricane Irene was barely a hurricane when it hit South Florida. It hit by surprise, as the Lord had shown us, but instead of thousands dying in an unexpected monster storm, God's Kingdom authority was validated. Since then, many have taken up the mantle of faith and authority over the elements. This is an anniversary worth celebrating.
Often, when I would speak with the late Bob Jones, one of my prophetic mentors, he would tell me that we needed to get the word out about what God has done to build faith for Kingdom authority in South Florida. I finally listened. Just on time for the fifteenth anniversary of Irene, I have published the story that started us on the path to understanding (and to calmer hurricane seasons). It is called Whatever You Bind On Earth: Authority to Stop Hurricanes. It is, first and foremost, an invitation to use the Keys of Kingdom Authority. It is also a historical record of how God warned about Hurricane Irene, and it is incontrovertible evidence that God still speaks today. The first copies of the book actually arrived on October 15th, the exact day of the fifteenth anniversary of Hurricane Irene's visit to South Florida.
Here is what the back cover of the book says:
On October 1, 1999, the NBC affiliate in West Palm Beach, Florida, aired an interview with a pastor who claimed God had spoken to his congregation about Hurricane Irene, a storm that had not yet formed. The pastor explained where the storm would hit, that it would hit by surprise, and that God had invited his people to pray so that it would not devastate South Florida. You can still see that interview at HurricaneIrene.com. Hurricane Irene hit South Florida by surprise two weeks after the interview ran. It hit where the pastor said it would hit. This book recounts how God prepared a people to stand in the gap for South Florida, and invites you to take your place using the keys of authority that Jesus granted to his Church. You will learn how to stand in the gap for your community, and you will be inspired to seek the Lord and his voice at an even higher level.
Here is what I wrote in the preface of the book:
On October 1, 1999, WPTV, the NBC affiliate in West Palm Beach, Florida, aired a report on a church in Coral Springs, Florida, which had predicted that a hurricane named Irene would strike southeast Florida by surprise.

That interview, broadcast twelve days before the storm that would become Hurricane Irene had even formed, has become eloquent testimony for the veracity of everything contained in this book.

You can read this book without watching the interview, available at the link below. However, if you watch the video, you will want to continue reading this book.

The video is evidence that God still speaks.
Here is the video:
The book is available on Amazon in paperback and Kindle ebook format: Amazon Link
If you decide to read the book, please post a review at the Amazon site. We need to get the word about our authority out. This book is also great for unbelievers as a witness to the living God, and for those who do not believe God still speaks, since it demonstrates that he does.
If you are interested in bulk purchases for your church, group, or bookstore, contact me through the "Contact Me" menu above.
Thank you for your support.
——————————————————–
Subscription Notice: I have found that the most dependable way of notifying subscribers of a new post is through email. So I have added an email subscribe option below. Just add your email address and click subscribe (you will receive an email asking you to confirm your subscription—so check your spam folders if you don't). You will receive an email alert whenever I publish an article. Your emails will be used for no other purpose.
Share on Facebook