The 2013 Hurricane Season
June 10, 2013, 5:29 pm
Randal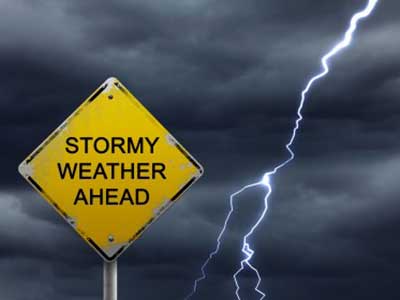 Are you prepared for the hurricane season? Many of those who post about the hurricane season remind us to be prepared "just in case." You can find lists of items that you should have prepared, just in case your area is hit by a major hurricane. While I remind people that stocking up for emergencies is part of being a good citizen and neighbor, I believe that our best preparation for the hurricane season involves standing in the authority that Jesus Christ has won for us. He died and rose again to win the keys of authority for his Church. We use that authority in many different ways, but for those of us in South Florida (or any other hurricane prone region), it is absolutely vital that we use our authority to protect our region from hurricanes.
We held our first intercessory meeting for the hurricane season just over a week ago. As I have often mentioned, we do not wait for the storms to come to us. We recognize that destructive hurricanes are released from hell to harm population centers. We don't like to wait for Satan's strategies to emerge during the hurricane season. We are much more comfortable preempting his plans by using the keys of authority that Jesus has given to us. We use those keys to lock the door on Hell's strategies against our area of influence, and to unlock the purposes and blessings of God in our weather patterns.
Last year the Lord alerted me to three specific storms that Satan's agents intended to use against South Florida (see South Florida's 2012 Hurricane Season and 2012 Hurricane Season Recap). The Body of Christ rose to the challenge of the storms, and none of the three presented any problem for our immediate area, though they certainly troubled some other areas.
Bob Jones, one of my prophetic mentors, asked me recently if the Lord had given us anything about the 2013 hurricane season. While the Lord has shown us some things about the tornadoes and storms troubling other areas (see More Storms Coming and Tornadoes and Rain), he has not given us much about our own hurricane season. Bob told me that he had seen at least one that we would need to push away, but that he was confident that we would be able to do so.
I mentioned to Bob, that at this point, I believe that the Lord is only speaking to us about specific threats when there is something we can learn from it, or something that we must expend more intercessory effort over. Since the Lord has given the earth to man (Psalm 115:16), I believe he expects us to walk with intelligent stewardship over it. When I release a task to employees, or to my children, I actually expect them to perform the task. I will train and equip them for the task, I will also monitor things to ascertain whether they are being done correctly, but at a certain point I will simply expect that they will handle the task without much further input. I will certainly encourage them appropriately, but the highest form of praise is the fact that I no longer need to micromanage what they are doing.
In the same way, the Lord gives us callings, tasks, that he intends we carry out on his behalf. He trains and equips the members of his Body to do these tasks. He certainly encourages us along the way, but he also expects that we will grow up into our callings as we mature. He will certainly give us information as we need it. But if we do not need it to accomplish our task or develop our relationship with him at a higher level, he really does not need to tell us every detail of what is coming.
Do not get me wrong, I like the details. Back in 1998, the Lord spoke to us in great detail for over a year about a specific threat to our area. He gave us the information, and the wisdom about what to do with that information, so that Hurricane Irene did not devastate our region in 1999 (see Hurricane Irene). Since then, I have learned that there are threats the Lord will speak to us about, and there are some that he does not bother to speak to us about. I have learned to be at peace with either circumstance.
Those who analyze weather patterns have told us we can expect an active hurricane season. Veteran prophet Bob Jones has seen some specific threats. That means we all must man the walls of intercession and authority. That is our task. Let's do it well this season.
——————————————————–
Site Upgrade: If you have been here before, you know that this blog has a new appearance and functionality. I trust you will enjoy it. If you find anything that is broken (links, etc.), please let me know through the contact menu at the top of this page.
——————————————————–
Subscription Notice: I have found that the most dependable way of notifying subscribers of a new post is through email. So I have added an email subscribe option below. Just add your email address and click subscribe (you will receive an email asking you to confirm your subscription—so check your spam folders if you don't). You will receive an email alert whenever I publish an article. Your emails will be used for no other purpose.
Image credit: nexusplexus / 123RF Stock Photo
Share on Facebook